Passionate about trucks and looking for a great career?

---

Grace Transport Inc. offers a Drivers Certification Program where you can gain your license and career all in one place.
Program Overview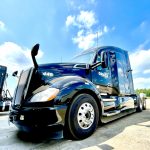 The Driver Certification Program will get you your AZ license, a completed apprenticeship as a 638A Tractor-Trailer Commercial Driver and a lifelong career.
The first phase of the program consists of 4-6 weeks of mentorship in the classroom, in-cab and other workplace settings.
The second phase of the program consist of 3000 hours of logged driving time.
Apply Now
ADMISSION REQUIREMENTS
Must be 21 years of age or older.
Must have a valid G license.
Must have a valid travel document and willing to cross the border.
Current drivers abstract with no more than three (3) demerit points or two (2) moving violations.
Clean police background check.
MTO Medical that meets requirements including vision.
DOT pre-employment drug test with negative result.
Required to be away from home for 4-7 days.
Clean criminal record check
$500 fee for training materials
High school diploma is an asset
OUR MISSION
Grace Transport Inc. located in Strathroy Ontario is a family-owned business that has operated for over 25 years and has since grown to include an experienced team of professional drivers and support staff. At Grace, we have been focused on our employees from the onset and believe them to be of the highest value of any of our assets. Our employees and the commitment we share with them drive our business and together we strive to provide our customers with first-class service, on-time at reasonable rates. We would like to invite you to explore our Driver Certification Program further by contacting us!